Save Girl Child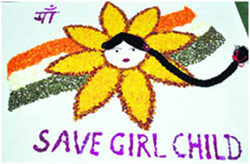 We at XYATA strongly feel that the girl child is the future of every country. It is believed that only 1/3 of the female child born survive. Some are killed in the womb, some at the time of birth, some die due to ill health and some due to poor nutritional status. Only a few numbers of girls are able to survive till their 15th birthday.
India is a country where a selective 'human breeding' is rampant, figures throw up some of the most startling trends ever in history.
India represents one of the most adverse Child Sex Ratio (CSR) figures amongst the Southeast Asian countries, reflecting a highly undesirable reversal of the norms of nature. The 2001 Census conducted by Government of India, showed a sharp decline in the child sex ratio in 80% districts of India.
Female Infanticide is one of the biggest problems that India is facing. Although one may agree that the quality of life of women in India has improved over the years yet the sex ratio in most states of India. Gloom still descends in families where a female child is born. The Female child is still killed before birth although apparently even trying to know the sex of the fetuses considered illegal and is punishable by the law in India.
Systematic gender discrimination in India is reported to have claimed up to a whopping 50 million female lives. The Census Report of 2001 reveals a highly skewed child sex ratio (0-6 year-olds), that fell from 945 females per 1,000 males in 1991 to an all-time low of 927 in 2001. The ratio even further dropped to 800:1000 in some specific parts of the country.
Additional data from the India's birth and death registration service indicates that the figures have further fallen to fewer than 900 females per 1,000 men over the last few years.
A survey by Action India of women in Delhi revealed that even the highly educated women have resorted to as many as a whopping eight abortions to ensure that they only give birth to a son.
The obsessive inborn hunger of the Indian social set-up to have a male child in its progeny has virtually brought the ethical systems of India into shambles.
The prejudice finally takes its toll and shows itself in a drastically lopsided sex ratio in the country.
One of the earliest forms of support in the educated circles of our society, .i.e. sponsoring the education of a girl child, is still one of the most effective forms of contribution.
The best however is clearly still not good enough. XYATA is committed to contribute its bit towards saving the precious girl child & strongly supports activities in the direction of 'Saving The Girl Child'.